FLENK collaborated with Cumberland City Council and artist Gauri Torgalkar to create creative engagements that celebrate the festival of Diwali 2021. Watch a video to learn about Diwali and how to create rangoli, listen to a guided sound walk of your local environment, or keep an eye out for our Instagram engagements to be inspired by light and patterns around you.
The creative engagements include Rangoli Stories – featuring Gauri Torgalkar's perspectives on Diwali and rangoli – and Listening Walk, a guided audio walk inviting participants to connect with the special plants and flowers native to their local place. There are also four one-minute creative prompts made for Instagram, inviting engagement with Diwali festival practices. They focus on shadow and light, patterns, lanterns and community connections through collaboration.
Find out more about the project on Cumberland City Council's Diwali Festival 2021 page.

Rangoli stories with Gauri Torgalkar
Listen to artist Gauri Torgalkar share stories of rangoli and Diwali festival and learn how to create your own colourful, patterned artworks in a practice celebrating Diwali. You can create your own design with found materials or pick up a free rangoli kit from any Cumberland City Council library in November 2021. We encourage you to collaborate and share with your family, community and neighbours to celebrate Diwali.
To view the video with closed captions in English, click the 'cc' button on the bottom right of the video frame when you hover over the video.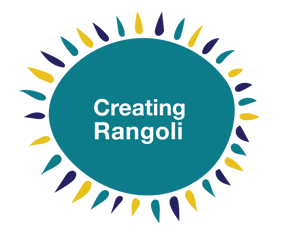 Creating rangoli
Follow this simple guide to create your own rangoli.
Location
Look for a suitable location around the outside of your home. Rangoli is often made at the entry to a home such as a front door or pathway.
Materials
Once you have found a space, clean the surface or lay down some paper to work on. Gather your materials: you could use a rangoli kit, natural materials found around your house; lentils, nuts, seeds, leaves, rice and grains. You can also use found objects like bottle tops, buttons and paperclips. What other materials could you use? Be creative!
Design
Rangoli often uses repeating patterns and geometric shapes, such as flower and leaf shapes. You might be inspired by patterns you see around you. Think about your design before you start, you may decide to start with a practice sketch on a piece of paper. You also may like to use a grid pattern to plan your design.
Make
Begin your rangoli by creating an outline of your design using chalk, white rangoli powder or another marking material.
Once your outline is ready, fill in your design with the colourful rangoli powders, chalk or other materials you have collected.
Rangoli is temporary. At the end of the day, you might like to leave your rangoli or reset the materials to create a new rangoli tomorrow.
If you have collected materials from nature, return them to your garden or local park.
You can also download a PDF of these instructions.
Listening walk
FLENK Collective guide you through a creative experience of your local neighbourhood. In celebration of Diwali, you are invited to connect with the special plants and flowers native to your local place.

The walk is inspired by Gauri Torgalkar's practice of seeing local native flowers through the lens of Indian miniature painting and textiles. You can also read the transcript of the listening walk.



Creative prompts
Think creatively with these four short social media prompts from that invite you to engage with Diwali festival practices. Have fun collaborating as you play and experiment with patterns, lanterns, shadows and light.